---
---
This journal, created and funded by the not-for-profit and non-commercial "Peer Community In" (PCI) organisation, publishes PCI-recommended articles in open access, without further peer review, at no cost to the authors.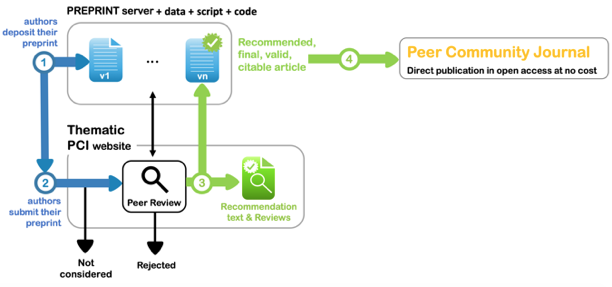 The evaluation of articles, by peer review, is performed by each thematic PCI. Once an article has been evaluated, accepted and recommended by a PCI, the authors can opt to publish it in Peer Community Journal.
Peer Community journal is run by researchers for researchers and is funded by public research institutions. It is:
Unique = it is a single journal for all PCIs.
Free = it is a diamond open-access journal (free for both authors and readers).
Exclusive = it publishes only articles recommended by PCI.
Unconditional = it can publish any PCI-recommended article in its recommended version.
Opt-in = it publishes articles only if the authors wish it.
Immediate = there is almost no delay between submission and publication.
Community-based = it is run by scientists for scientists.
Peer Community journal is under evaluation by international scientific databases for indexation.
The articles published by Peer Community Journal are published under a CC-BY license.
---
Acceptance of an article for publication in the journal is conditional on the recommendation by one of the original thematic PCI of the article:
An article that has been accepted and recommended by a thematic PCI will be accepted unconditionally for publication by the journal.
An article that has not been recommended by a thematic PCI cannot be submitted to Peer Community Journal.
---
The Peer Community Journal:
• Publishes unconditionally, free of charge, exclusively, immediately (as soon as possible), in open access, any article recommended by a PCI, in accordance with the wishes of the authors.
• Provides a link between the published article and its evaluation and recommendation on the corresponding PCI website.
• Aims to offer the authors of PCI-recommended articles the opportunity to publish in a journal.
• Publishes articles on a rolling basis in thematic sections corresponding to the themes covered by the current PCIs.
• Archives the published articles in CLOCKKS.
• Keeps control of the publishing process within the scientific community.
To see what each PCI does before recommendation, please consult the help/How does it work section of each PCI
---
It does not provide any language, copyediting or typesetting services. It only checks the accuracy of references.
It has no other editorial policy than to accept any PCI-recommended articles and only PCI-recommended articles.
It does not charge fees to authors or readers.
It does not play the citation metrics (impact factors, etc.) game, and does not display citation metrics on its website.
---
Peer Community Journal is not an overlay journal. Why? because authors submitting their articles to PCI can use all preprint servers and open archives that currently exist (arXiv, bioRxiv, OSF preprints, HAL, etc.), and some of them:
Do not accept deposits of formatted articles or versions of record.
Do not provide any information about the publication of the article in a journal.
---
Peer Community journal belongs to, and is published and funded by the PCI organisation.
Peer Community Journal is member of the Centre Mersenne for Open Scientific Publishing
The Peer Community Journal is endowed with:
An editorial board (composed of all the managing boards of all the thematic PCIs)
An executive board, which manages the logistics, funding, administrative aspects and promotion of the journal. The members of the executive board are the members of the board of the PCI Association that publishes the journal.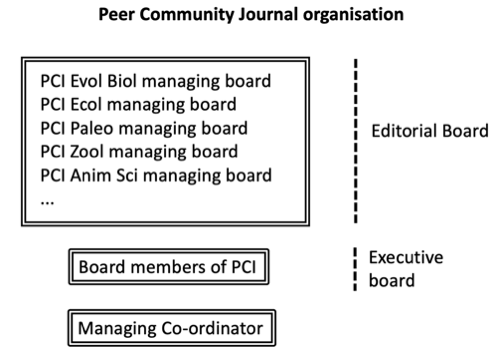 ---
Peer Community Journal is supported by more 20 universities and major research organisations including: See the full list here.
---
To get in touch with the journal please use the following e-mail address: contact@peercommunityjournal.org